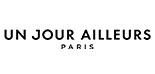 UN JOUR AILLEURS
Closed today

04 78 60 08 79
UN JOUR AILLEURS
Un Jour Ailleurs at Lyon La Part-Dieu offers fashionable collections of elegant women's clothing with something to suit everyone.
This season is party time, with lots of fun and gaiety around the corner!
Un Jour Ailleurs offers a collection with bold colours to set off your tan.
Graphic, animals, sea life, flowers – prints are in this season and liven up all your favourite items. They perk up your outfits – just add a trench coat, parka or short jacket this autumn.
Now that summer is here, it's time for light tops and dresses and soft pastels colours – perfect for all your summer events.
Discover all our new arrivals and our timeless pieces, in sizes from 34 to 52. Pop into our store or visit our website at: http://www.unjourailleurs.com
What we do best
Follow what's new at Un Jour Ailleurs on Facebook: http://www.facebook.com/pages/Un-Jour-Ailleurs/153896874689995
Opening Hours :
Monday to Sunday : Closed

Categories :